The attractive holiday resort Csorba can be found in a peaceful part of Siófok, at a distance of 800 m from the lake, at a distance of 2 km from the centre of Siófok. The plot is ca.2500 m².

Holiday house "E":
Whole year rentable!
Holiday house "E" is a one-storied, practical furnised building, which is ideal for 4-7 persons. We recommend our flat especially for families with children.

The house was renovated in 2011. The 2 bed
rooms and the kitchen-diningroom are individually air-conditioned. Use of the air conditioning systems is on request against payment possible (only cost of electricity) In the house there is a central gas heatingsystem. Heating is on request against fee possible (only gas costs)


The house consist of: kitchen with dining corner, 2bedrooms, 1bathroom, 1shower/WC, 1covered terrace with garden furniture.
The kitchen is equipped with enough plates, utensil, cutlery, electric cooker, refrigerator, dishwasher, microwave oven,
coffee machine, kettle, toaster
.
TV with cable programs is available in the house. In the larger bedroom there are a double bed and 1pull-out coach (as 2 extrabeds) and in the smaller bedroom 1 pull-out coach and 1 pull-out armchair (as 1 extrabed) are available for guests. There is also a washing machine in the larger bathroom.


Holiday house "E" has a covered terrace with garden furniture beside the house, and a sun terrace with couches and sun screen before the house. Big Swimmingpool, kid's pool, children's playground with swing, chute and sand box and 3 grill corners are in the garden. The pool with the outdoor shower, kid's pool, children's playground and grill corners are common for all guests. 2car parking places are in the garden. Pets unfortunately not allowed.
The owners are living separat, help with giving information for programmes. The owners are speaking German, English and Hungarian.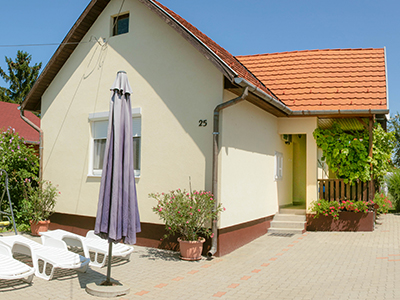 Move the mouse over the plan to get photo (if available ...)
of the individual rooms.


Skeches


Please click on the sketck to see the pictures of each room !


1., Doublebed+2Extabeds 6., Bathroom
2., Doublebed+1Extabed 7., Entrance
3., Kitchen 8., Terrace
4., Dining room 9., Extrabed
5.,Shower/WC 10., Sunterrace