The picture below shows our parcel with a view toward Meggyfa street.
Move the mouse over the plan, so you get a brief description and a photo (if available ...) of the individual areas.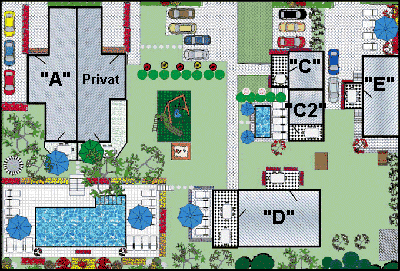 Our holiday resort consists of 4 houses:
Attractive, completely separate, fully equipped, air-conditioned unit in the semidetached house (Holidayhome "A");
The small, air-conditioned house (Holidayhouse "C");
Medium sized, air-cinditioned house (holiday house "C2");




Another

free standing,

air-conditioned,

large house (Holidayhouse "D");

The medium sized, free standing, air-conditioned holiday house (Holidayhouse "E").
Holiday house "A" :
150 qm, 8-14 persons
sitting room, dining room, kitchen, 4 bedrooms, 3 bathrooms, lounge
Holiday house "C":
30 qm, 2-4 persons
kichnette-sitting room, bedroom, shower/WC
The upper floor (bedroom) has an air-condition,
Well-equipped kitchnette (according to the number of guests: plates, utensil, cutlery, fridge, dishwasher, cooker, microwave oven, percolator, coffee maker, kettle, toaster)
Washing mashine in the bathroom

Digital SatTV program receipt with more than 100TV, radio programs...
All day long free WiFi both in the house and garden
Pillow, duvet and bed linen in the bedrooms available
Towels are to be bring by the guests
Covered terrace with garden furniture before the house
Key to the signs
---
45 qm, 4-6 persons
kichnette-sitting room, 2 bedrooms, shower/WC
The upper floor (each bedrooms) has an air-condition,
Well-equipped kitchnette (according to the number of guests: plates, utensil, cutlery, fridge, dishwasher, cooker, microwave oven, percolator, coffee maker, kettle, toaster)
Washing mashine in the bathroom

Digital SatTV program receipt with more than 100TV, radio programs...
All day long free WiFi both in the house and garden

Pillow, duvet and bed linen in the bedrooms available
Towels are to be bring by the guests
Covered terrace with garden furniture before the house
Key to the signs
---
Holiday house "D":
120 qm, 8-12 persons
kitchen-dining room, living-bedroom, 4 bedrooms, 3 bathrooms
Each room has individually air-condition,
Digital SatTV program receipt with more than 100TV, radio programs...
All day long free WiFi both in the house and garden
Well-equipped kitchen (according to the number of guests: plates,
utensil, cutlery, fridge, dishwasher, cooker, percolator, microwave oven, coffee maker, kettle, toaster)
Washing mashine in the bathroom
Pillow, duvet and bed linen in the bedrooms available
Towels are to be bring by the guests
2 covered terraces with garden furniture before & beside the house
Own sun terrace with sunbeds and sun umbrella before the house
Holiday house "E":
65 qm, 4-7 persons
kitchen-dining room, 2 rooms, 2 bathrooms
The 2 bedrooms and the kitchen-diningroom have individually air-condition,

Digital SatTV program receipt with more than 100TV, radio programs...
All day long free WiFi both in the house and garden
Well-equipped kitchen (according to the number of guests: plates, utensil, cutlery, fridge, dishwasher, cooker, percolator, microwave oven, coffee maker, kettle, toaster)
Washing mashine in the bathroom
Pillow, duvet and bed linen in the bedrooms available
Towels are to be bring by the guests
Covered terrace with garden furniture beside the house
Own sun terrace with sunbeds and sun umbrella before the house
Others:
Common meeting room available with a big dining corner for ca. 20-25 persons (air-condition, digit sat Tv and fridge aswell in the room)

Solarheated swimming pool with decorative motorized pool cover (9x4m, 1,2-1,8m deep)
Solarheated

kid's pool

with waterslide (2x4,5 m big, 0,2-0,6m deep)
Outdoor shower in the garden ( with sunboyler )
Children's playground (swing, chute, sand box) in the garden
3 grill corners in the garden
Parking possibility in the garden
You can get a travel babybed if needed
Wash possibility when needed
Hoover can be found in the holiday house
Irons(board) can be asked from us